Custom Website Performance Reports - Jacksonville FL
Your website should be bringing qualified leads to you through phone calls or lead-generation forms. Just as you monitor the sales efforts within your organization, your website should also be monitored and adjusted when necessary. With detailed website visitor statistics, you can see if traffic is improving, did they find you through a keyword search or was it a referring website, and many more.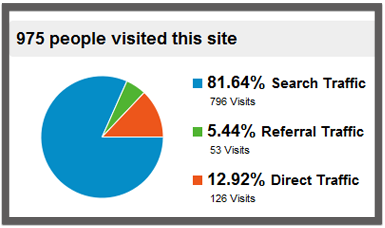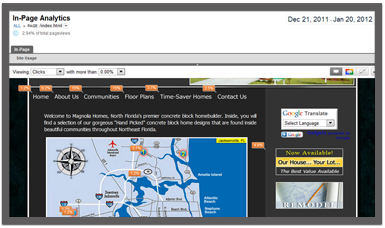 In-Page Website Analytics
In-Page analytics allows us to see which areas of your website are clicked and which links are not clicked. This allows us to test alternate phrases or images to improve the visibility and capture rate of your website audience.
"These free reports give us an advantage we never knew existed!"


– Pat Meinert, Fitness Management & Consulting
QR Code & Shortened-Link Reports
We create QR Codes and provide editable landing pages. QR Code and Link reports (Quick Response) are a great way to identify which types of messages your audience is interested in and evaluate advertising response. Our QR Code campaigns are used to bring your offline marketing audience online, and these reports can tell you which outlet produced the highest response rate. We also provide training for our clients to generate these shortened links to track links posted to social media websites.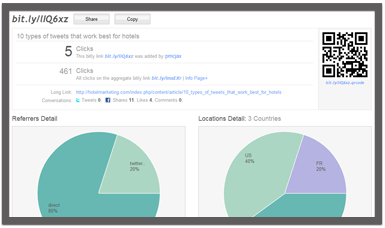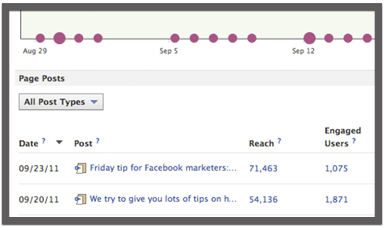 Facebook Insights
Learn which posts your customers respond to on Facebook, and monitor your level of "Facebook Fan" activity. These great reports are only available if you are using a Facebook Business Page - if your business has "Friends" listed in the menu you're using a Profile which is not recommended. We create custom business Facebook Pages with mini-websites, menus, photos, contests, special offers and more.
Like Us On
Facebook
Web Design & Internet Marketing
We share helpful articles, advice & case studies about Search Engine Marketing, Internet Advertising, Website Design & Content Marketing in Jacksonville, FL.
Visit PMCJAX on Facebook
Get
Answers
Contact Us Today