QR Code Marketing
QR Codes are an effective way to transport your offline audience to an online promotion or mobile website. QR Codes are added to printed material such as advertisements, brochures, etc. and when scanned by a smartphone app they quickly open a link to a mobile website or special QR Code landing page. Our QR Code services include unique tracking per code, along with an editable landing page or mobile website.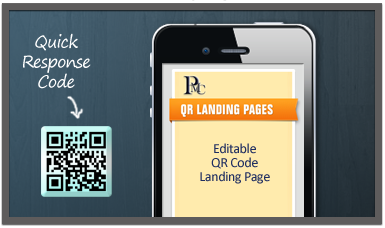 How Can I Get a QR Code?
There are several options for creating QR Codes online, the service we use offers a very robust platform which includes detailed reports not offered by other service providers. Each QR Code contains its own set of data about the number of times your code was scanned, what days of the week, and more. We also provide analytics for the landing page or mobile website your QR Code links to. Call or send us your information through our Contact Form, and we can have your QR Code and editable landing page ready for you within 1 business day.
How do I Scan a QR Code?
Anyone with a smartphone can scan a QR Code, but it must be scanned with an App. Any barcode scanning app will read QR Codes and activate the smartphone's Internet browser, opening the website address that each unique QR Code contains. That's right, each QR Code you see was created individually, using a specific website address. The QR Code is an instant link for smartphones, removing the need to type in a website address. Two popular QR Code scanning apps are RedLaser and ShopSavvy.
Like Us On
Facebook
Web Design & Internet Marketing
We share helpful articles, advice & case studies about Search Engine Marketing, Internet Advertising, Website Design & Content Marketing in Jacksonville, FL.
Visit PMCJAX on Facebook
Get
Answers
Contact Us Today